International Photo Contest

Capture the emotions
that nature gives you
in the three Italian National Parks of Stelvio,
Gran Paradiso and Abruzzo, Lazio and Molise
and in the French National Park de la Vanoise
 
Deadline: 30th november 2020
Wildlife Photographer of the Year 2020
We find even one of our most loyal participants of "Fotografare il Parco" among the winners of the 56th edition of
Wildlife Photographer of the Year, a "historic" photo contest dedicated to nature.
It is Lorenzo Shoubridge, whose spectacular photo of wolves was awarded the "Highly Commended" prize. The same image also won the
first prize in the "mammals" category of the Montphoto international photography contest.
We contacted him and he told us he is delighted with the prestigious result obtained, derived from his great passion for nature that found
in photography the way to realise his desire to collect evidence of the beauty of the natural world and to share it with other people.
Passion and "expertise", as we say, for the realization of a shot dedicated to a couple of wolves, very charming animals,
depicted in their environment and in their daily life.
Our warmest congratulations to Lorenzo, and also to all the other photographers we know who, over the years, have honoured themselves
in the most important nature photography contest in the world.
Of course, we are waiting for you in "Fotografare il Parco".
Bormio, Torino, Pescasseroli, Chambéry, 22 october 2020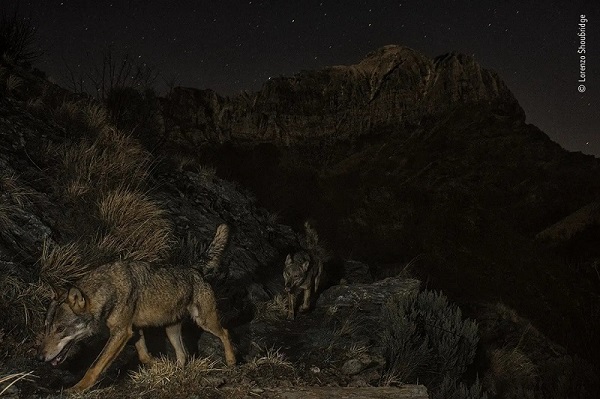 Thanks to Francesca Berardi for the translation.
THE EMOTIONS CARRIED BY NATURE IN A SINGLE "CLICK": THE CONTEST "FOTOGRAFARE IL PARCO" IS COMING BACK
The international competition "Fotografare il Parco", that has become a traditional event for mountain photography lovers, is coming back again.
 
For the 14th time, photography lovers and tourists of the protected areas could confront each other with the shots dedicated to the nature of the Parks that organize the event. Landscapes, animals and plants of the Stelvio, Gran Paradiso, Abruzzo, Lazio and Molise and de la Vanoise National Parks thus become the protagonists of the competition, supported by the patronage of Alparc (Network of Alpine Protected Areas) and Federparchi.
 
Given the inevitable delays following the health emergency, the deadline for participation is this year postponed to November 30, 2020. Beautiful seasons are waiting for us, from now until almost the first snow, so as you could venture on the paths of the Parks with the camera around your neck.
 
However, it is not only an opportunity to test your photographic skills, it is also a way to collaborate with us. Many of the images presented in the competition, fundamental to convey the beauty and the complexity of the protected areas, will be displayed – even if they will not be rewarded. They could actually be used in our communication campaigns, helping us to increase interest and attention towards mountain nature, its vulnerability and the importance of its conservation.
FOTOGRAFARE IL PARCO is coming back!